DS-1 Test Kit: Tests for Bacteria (Algae) in Your Fuel.
Simply dip the test into the fuel and wait a day.

The side detects (ALGAE) BACTERIA in 24 to 36 hrs after exposure
One Individual Test per Package.
Works in Red or Road Diesel Fuel.
NO Spots are Good News. Any Reaction is Bad News.
Diesel Fuel with Gasoline Test #GAS-1

Did someone make a mistake and put gasoline in the diesels tank?
Here it the test for Gasoline in All Diesel Fuels
Simple and immediate
The larger the bubbles indicate the higher percentage of gasoline in the fuel.
Diesel Fuel DEF Test #DEF-1
Did someone put DEF in your fuel tank…find out now.

Tests for Water or DEF in All Diesel Fuel
This is a PASS or FAIL test.
Simple and immediate
Kit contains one test tube, 10 test strips and 1 transfer pipette
Test Procedure
Remove one test strip from the package
Place the colored end down into the test tube
Add questionable liquid.
DEF will turn BLUE/GREEN in a few seconds.
W-5 Test Kit: Test For Water in the Diesel Fuel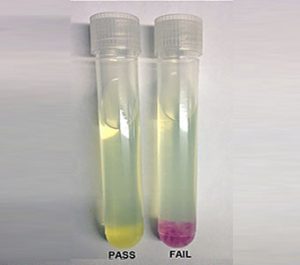 Remove the capsule from a test tube.
Add fuel to the test tube and in seconds you know if water is in the fuel.
This is a PASS or FAIL test that is simple and immediate
Any detection of suspended water turns pink. The fuel FAILS.
FCT-100
Diesel Fuel Water Content &
Fuel Clarity Test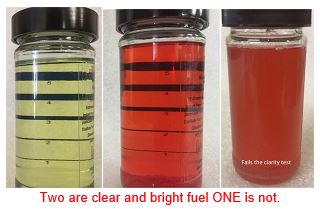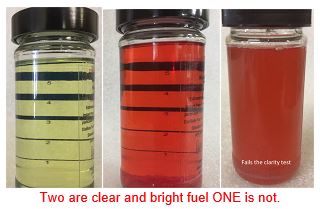 Test Procedure One – Fuel Clarity Test.
Test is designed as a field PASS or FAIL
Test detects water and solid contaminants in diesel fuels
Very simple and immediate
If all 5 indicator marks are visible then the test PASSES.
If the indicator lines disappear then the fuel FAILS.
Failed tests require Fuel Polishing/Maintenance.
Test Procedure Two – Suspended Water in Fuel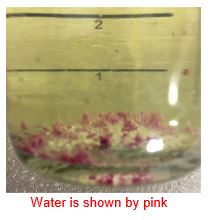 Added powder will start to settle to the bottom
200-500 ppm water will give you pink spots in the powder
600+ ppm water will turn the powder hot pink
Hot pink is a FAILED test and action must be taken
Diesel Fuel Acid Test #PH-1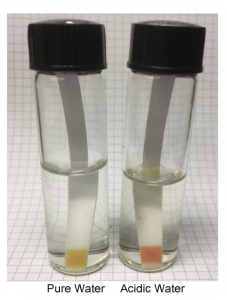 Test the pH of the water from your water separator
The more acidic the more damage it is doing to your fuel tan
Simple and immediate
Kit consists of 1 test tube ,10 test strips and 1 transfer pipette
Results are immediate.
This is NOT a DEF Test.
Test Procedure
Take the water sample using the supplied pipette
Add it to the test tube until the tube is ½ full
Acidic water will show as pink to red
Why Fuel Testing?
How clean is the diesel fuel that you're relying on? Never assume fuel quality is not an issue. If you're not using diesel fuel test kits on a regular basis, you probably don't have any idea what kind of condition your diesel fuel is actually in.
All our kits are simple to use.
Low Cost.
Detect a fuel problem before you have engine damage.
Not sure what test is needed? Contact our nearest office.
Dieselcraft can supply your company with a wide range of diesel fuel test kits. From the relatively straightforward DS-1 Test Kit that will check for bacteria in your diesel fuel to the more advanced FCT-100 Diesel Fuel Water Content & Fuel Clarity Test that tests diesel fuel, biodiesel blends, and even heating oil, all our tests are easy to use and will provide you with real-time results in 5 minutes or less, in most cases. They include all the supplies and instructions you'll need to look for microbes and water in diesel fuel.
If your company has stored diesel fuel, it's a good idea to use diesel fuel test kits on it every 90 days to make sure water hasn't found a way to get into it. You should also get into the habit of using test kits on fuel deliveries to make sure there aren't microbes and water in diesel fuel before you accept it. It'll help you avoid a headache later and allow you to steer clear of using diesel fuel that could potentially have bacteria, mold, fungus, or even dangerous asphaltenes in it.
Take a closer look at each of the diesel fuel tests kits available through Dieselcraft here. Contact us at 530-613-2150 on the West Coast, on the Gulf Coast 337-277-5417 or at 772-215-8087 on the East Coast for additional information on dealing with microbes, water, DEF or Gasoline in your diesel fuel.