Fuel Polishing Systems for any budget.
400 GPH to 1000 GPH
We offer Equipment Financing and Lease options.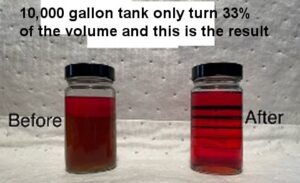 The FPS-400, 400 GPH
Cleaning the stored diesel fuel you use for standby power must be tested and polished on an ongoing basis. Dieselcraft can provide you with the tools you need for commercial generators, large marine diesel engines, and more. We can set you up with a portable fuel polishing machine as well as a maintenance service. You can make your diesel fuel system cleaner by taking contacting us now.
It's just about impossible to prevent all water from working its way into diesel fuel. But the key is to create conditions that will keep the amount of water in diesel fuel to a minimum. Dieselcraft  portable fuel polishing systems can remove more than 99% of the water and solids in your diesel fuel tanks with out a filter and reverse your problems.
The FPS-30, 1000 GPH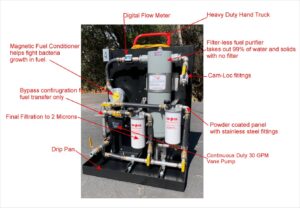 We specialize in helping companies remove water, solids, and other contaminants from their diesel fuel without the use of filters. Instead, we encourage our clients to rely on Dieselcraft Fuel Purifiers to get the job done. They're capable of removing water and solids from fuel effectively and don't need filters to do it.
Contact Warren van Dongen
(810) 423-2854 
EcoFuelServices@gmail.com
Our fuel maintenance services include everything from fuel sampling  and fuel polishing-filtration  to assure the fuel meets ASTM standards for stored fuel. We work closely with those Commercial Companies, IT Data Centers, Hospital and Municipalities who have long term stored fuel and need to comply with current standards. We can create the proper service package for you and your company to ensure your diesel fuel is always in spec and clean so no issue arise when that emergency happens.
Do you have questions about Dieselcraft fuel testing and cleaning products? Contact us at 530-613-2150 on the West Coast or at 772-215-8087 on the East Coast to see which of our diesel fuel maintenance products might be best for your company.
Have less than 100 gallons of fuel and need a quick and simple way to get the water and large solids out?