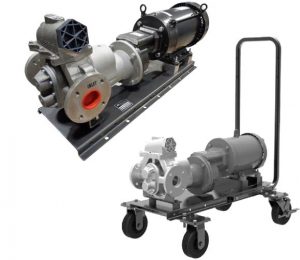 Applications
To transfer fluids at flow rates between 10 and 175 GPM up to 150 psi in applications such as fleet, aviation, marina, construction, and agriculture refueling as a well as bulk loading/unloading for rail, truck, and marine vessels. Typical fluids include Fuels, Oils, Lubes, Anti-freeze, Petroleum Contact Water (PCW), Transmission Fluid, and some petrochemicals.
The Tri-Lobe pump design on a sturdy, light-weight platform allowing easy access to the pump inlet and outlet. This skid can be used in a stationary or mobile configuration.
The Pump Design
Our systems feature patented Tri-Lobe positive displacement impeller technology that provides dry-run, dry suction lift, and flow performance like no other positive displacement pump in the industry.
DRY-RUN
Our pump can be operated without fluid in the pump chamber. Pulling fluid through an empty pipe or hose is no problem. There's no need to prime the pump…just turn it on!
SUCTION LIFT PERFORMANCE
When it's time to pump fluid from down deep, the Tri-Lobe impellers can generate a vacuum that will lift fluids over 28 ft. at sea level.
AVAILABLE POWER OPTIONS
With a multiple AC power options (single and three phase) up to 10 HP, either for hazardous (explosive) or non-hazardous environments.
Drum Pump + Auto Nozzle 12 and 120 volt 15 to 20 GPM
Fluids: Diesel, Gasoline & Kerosene
Inlet-Outlet: 1 Inch NPT
Includes: 1 Inch Auto Nozzle, Anti-Kink Delivery Hose, 12V Power Cables & Telescopic Downtube
Anti-Kink hose that prevents the hose from kinking in tight turns.
Flanged components allow the unit to be installed or replaced without the use of sealant, making connections quick and easy.
Unique patented bung adapter with flanged component allows for a quick connection, with an easily accessed inlet strainer and integral check valve that leaves it anti-syphon ready.
Spring loaded, reinforced vanes provide higher suction capabilities, and keep consistent pressure and fluid displacement at all times.
7 GPM Transfer 120 Volt
Heavy Duty for continuous operation for our 5×32 Pre-Filter Purifier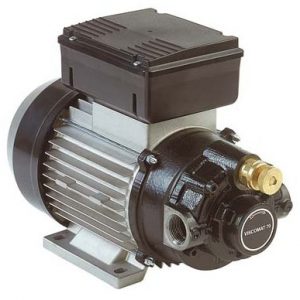 30 GPM Transfer 120 Volt
Heavy Duty for continuous operation for our 8 inch Pre-Filters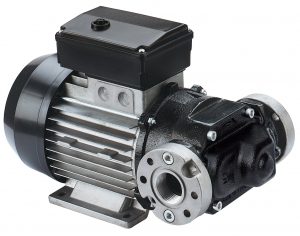 12 GPM 12 Volt.
The best 12 volt pump on the market.
30 Minute Duty Cycle