Is it possible to get oil filtered to 1 micron and have a reusable filter system that will cut the cost of filters, filter disposal and oil changes?
Changing engine oil regularly is one of the basic maintenance and servicing rules that every owner knows. However, the oil filters don't get the same attention. Generally you buy the brand name at the lowest cost.  The best oil filters trap dirt, debris, and other contaminants in the oil and ensure only clean oil circulates inside the engine. That being said, what is the best oil filter and, exactly, who makes the best oil filter?
The paper filter on your high prices diesel engine has not changed in almost 100 years. Do you really think that it is the best protection for your equipment?
Paper filters have inherent problems: Oil flow slows down when saturated with oil and contaminants. Paper filters are only 52% efficient at removing oil contaminants to 25 microns and paper filter only give you minimal oil change intervals.
All filters trap dirt, soot, and wear metals. The key word is trap. They do not remove the bad from the good. The only way to remove the contamination from the oil is with a bypass centrifuge.
Centrifuges for: Engine Oil, Vacuum Pumps, Gear Boxes, Waste Oil Non-Engine Lubrication Applications
Dieselcraft reusable centrifuge systems will at least double oil change intervals. Centrifuges have over 5 times the debris-holding capacity of any filters on the market. "Why?" you ask. Because the centrifuge removes contaminants from the oil flow all together. Filters take out solids and hold them from circulating further but plug and reduce oil flow and eventually reach the point of not working. The cleaning efficiency remains constant in a centrifuge where in a filter it drops off as the filter plugs.
Burning Land Fill Gas?
Cut oil use in half.
Ask us about our success stories on CAT 3500's
For these engines and many more:
CAT 3500 Series Engines
Cummins KTA38M2 1200 HP
Cummins KTA50M2 1600 HP
Cummins QSK38M 1300 HP
Cummins QSK19M 750 HP
Cummins KTA19M3 640 HP
John Deere 6125 350 HP
John Deere 4045T 105 HP
John Deere 6068T 155 HP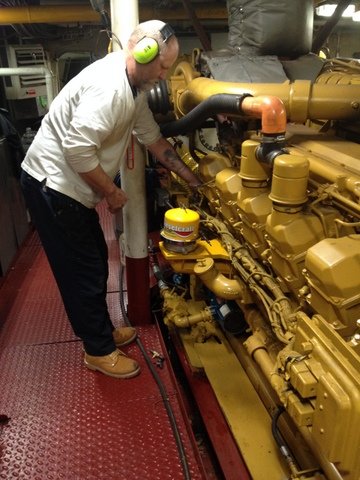 Kit for Stokes Vacuum Pump
Latest Example of huge cost savings:Kinney and Stokes 412 vacuum pumps
These pumps were being rebuilt every three months. Now with the Dieselcraft OC-50 centrifuge installed, they are rebuilding these vacuum pumps once every year and a half.
The average rebuild for a Stokes 412 vacuum pump is $8000. Based on your plants rebuild sequence, you can quickly see how much savings you will achieve by extending your rebuild out to over a year.
Kit for Stokes Vacuum Pump
Kit Includes:
One OC-50 Dieselcraft Centrifuge / Control Valve/ Pressure Gauge / Mounting Plate.
One Oil Pump & Motor / 8ft. 3/8 hose and fittings. Pump rated continuous duty.
One Motor power cord and switch. 20 ft. HD 14/3 cord with molded plug and industrial quality switch.
Download Centrifuge Data Sheet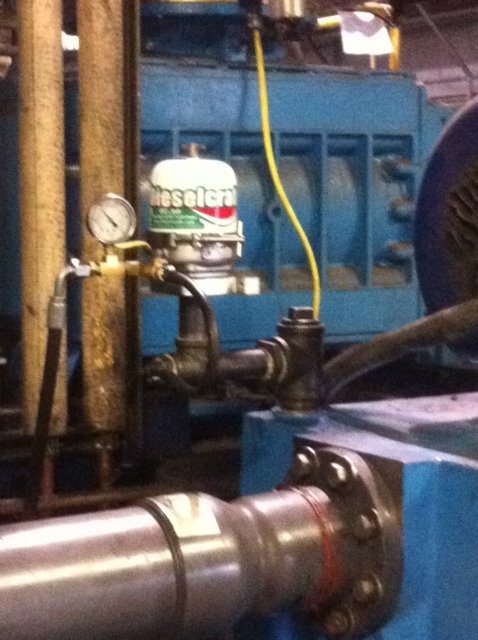 Model OC-25
Bypass oil cleaning for internal combustion engines
These are the ONLY systems that are plug and play for the pick up truck to class 6 truck market.
Download Centrifuge Data Sheet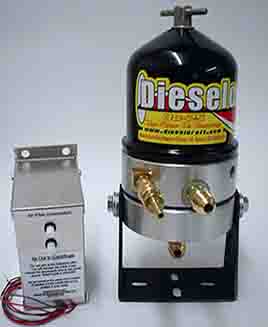 Model OC-50
For engine applications as well as for stand alone and in line industrial systems.
Flow rate: 1.8 GPM or 108 gallons per hour
Measures 5.4″ Diameter by 9.8″ Tall
Supplied with universal mounting plate is 6″ wide x 6″ long with a radius to match the inside of a 55 gallon open head drum. With 1 1/4 NPT female thread for affixing the return line or can be used to mount the plate with the use of a threaded nipple.
Rotor holding capacity: 20 oz of contamination.
Download Centrifuge Data Sheet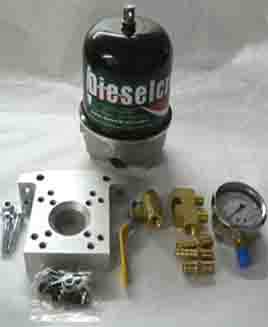 Model 250
Flow rate: 2.5 GPM or 150 gallons per hour
2.5 GPM for stand alone and off line systems For large diesel engine applications as well as for stand alone and in line industrial systems.
Download Centrifuge Data Sheet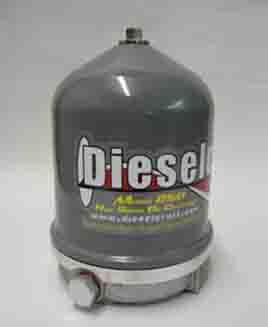 Model 500
5 GPM for stand alone and in line industrial systems.
Can be engine mounted.
Download Centrifuge Data Sheet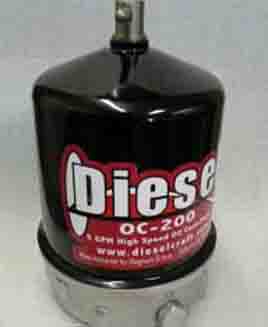 Model 1800 Centrifuge
13 GPM for stand alone and in line industrial systems.
Download Centrifuge Data Sheet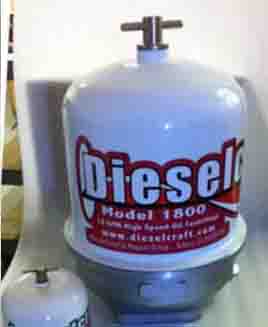 Magnum CFC 1000 Continuous Flow Centrifuge
This unit is fully programmable and self cleaning.
Motor is 3 hp 220 volt single phase
Rated for continuous duty.
Designed to run 24/7 with out anyone in attendance.
Timers are very simple to operate. Set it and forget it.
Liquid is put through the top via a ½ NPT hole and out via a 2″ NPT port. The bowl spins at 4000 RPM and generates 3000 "G's"
Will clean the following and more:
Engine Oil:
Biodiesel and feed stocks
Grape Juice/Wine:
Gold and Silver Recovery:
Machine/Grinding Coolant
Waste Water:
For more information see our sister site www.centrifugeprocessing.com