Why Fuel Polishing?
Fuel Polishing Made Simple

The #1 Portable Fuel Polisher on the Market Today
Used by leading data centers like (Amazon, Google and Facebook) also by the  US Government, Public Utilities, Hospitals and Boat Yards because we have the lowest operating cost and best reliability.

We offer Equipment Financing and Lease options.
Dieselcraft FPS-400 with Filter-Less Purifier Technology . Removes 99% of water and solid contaminates.  This propriety and exclusive fuel purifier is the heart of all Dieselcraft FPS Systems.  It reduces the need for replacement filters which must be changed as they load up. The Purifier has an integral contaminate holding reservoir with a water sensor that requires simple draining when the alarm sounds..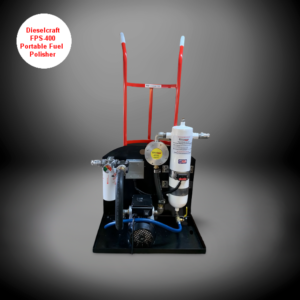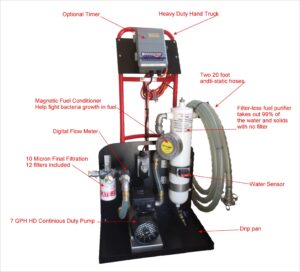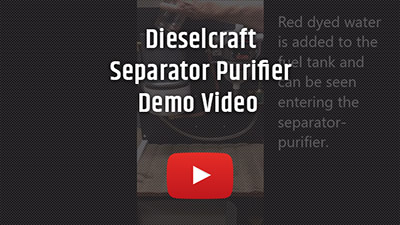 Model FPS-30

Diesel Fuel Polishing System to 10 Microns and up to 1200 GPH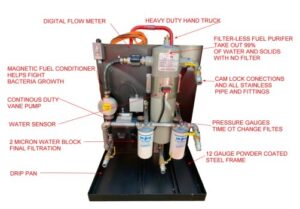 120 volt

Removes over 99% of water and solids with no filters to replace.

Magnetic Fuel Conditioning fights the bacteria in your fuel.

Absolute particle filtration to 2 microns. Six filters included.

Dual Filtration allows no stopping to change filters.

2 each 20 foot anti-static suction and discharge hoses.

All stainless steel fittings.

Digital flow meter.

Weight 220 lbs.

NOT FOR USE WITH GASOLINE

NEW: Optional Rolling Skid with pre-filter.


 
15 GPM Budget Portable Diesel Filter System

Model FPS-HC15

120 volt
900GPH

115 volt 60 Hz

Dimensions – 23" X 23" X27" tall

Removes over 99% of water and solids with our "fuel purifier"

Absolute particle filtration to10 microns

Epoxy powder coated with rubber feet

Two12 foot suction and discharge anti-static hoses included with cam lock fittings

1″ NPT male thread and Fuel Hose Swivel for Fuel Nozzle-Hose 360 Rotating Connector.

Sturdy "T" handle for one or two person carry.
Dry Weight 55 pounds
14 GPM Portable Diesel Filter System

Model FPSP14-12V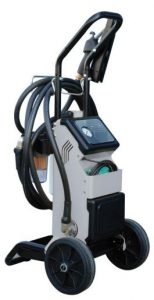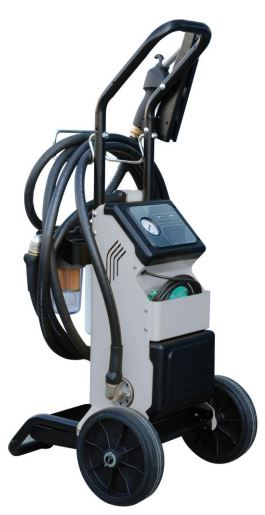 12 volt DC

30 minute duty cycle

On for 420 Gallons then off for 30 minutes

Two Stage Filtration

Removes water and solids

Includes Manual Fueling Nozzle and two 13 ft Hoses
Compact and Economical Diesel Fuel Polishing and Water Removal

Model FPS-CP-3

420 Gallons per hour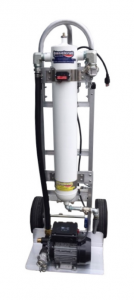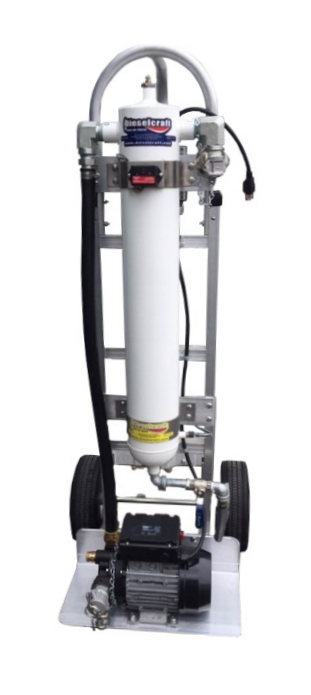 • 115 volt motor
• Filter-less Purifier to removes over 99% of water and large contamination in fuel without filters.
• Water/Debris alarm to indicate time to drain the purifier.
• 2 each 10 foot suction and discharge hoses included.
The FPS-CP-3 is a basic tank cleaning system designed for the transfer, water removal, polishing and/or re-circulating of diesel fuel in storage tanks in ground as well as above ground. Also for boats, generators and trucks.
The base system utilizes a 7 gallon per minute continuous duty pump in conjunction with a Dieselcraft 5×32 purifier plus and two 10 foot hoses.
Options: Digital Fuel Flow Meter.
Diesel Fuel and Gasoline Tank Cleaning

Model FPS-PW

to 3000 Gallons per hour

• 115 volt motor at 30-50 GPM to pressure cleans the tank walls and filter the fuel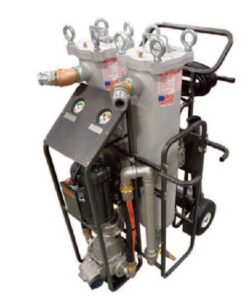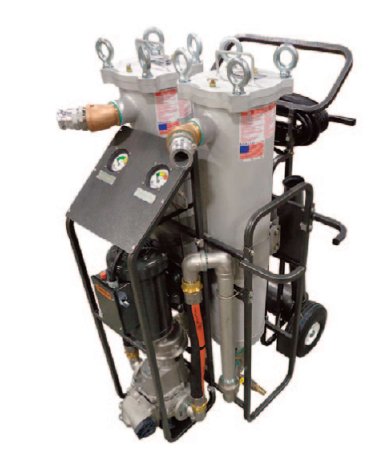 Before you buy the competition ask one simple question
"How do you get the water out?"
Dieselcraft has built water separators for 20 years. We know what is needed and what works. I would not assume others are as knowledgeable as we are.
We offer Equipment Financing and Lease options.
Here is the BEST tan cleaning chemical you can get!
Have less than 100 gallons of fuel and need a quick and simple way to get the water and large solids out?